SCRIBING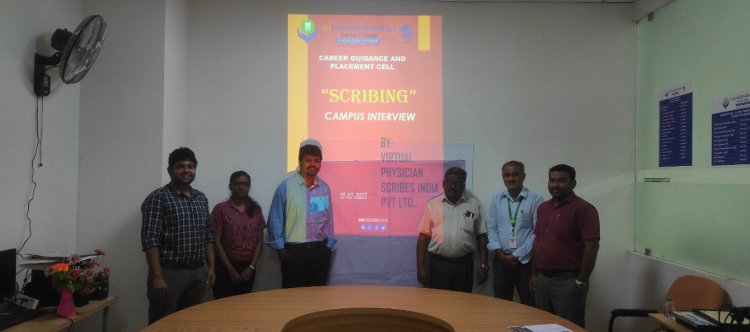 Name/ Title of the Program

SCRIBING

Type of the Program – Career Guidance Program

(Please mention if this is a CME/CDE/CNE/conference/ workshop/ seminar/ symposium/ panel discussion/ Faculty development program/ student enrichment program/ alumni program/Commemoration days; Also please mention the level, if this is at Regional/ National/ International/ Departmental, Institutional/ University level)

INSTITUTIONAL LEVEL

Conducted by

SRI VENKATESHWARAA DENTAL COLLEGE (SVDC)

Date/ Time

3.2.2023/ 2.00 PM – 4.00 PM

Venue

LECTURE HALL, (SVDC)

Target Audience/ Stakeholders

CRRI'S OF SVDC

Number of participants registered / attended

100

Program sponsors

NIL

Credit points/ hours

NIL

Objectives of the Program(in bulleted list)

CAREER SCOPE OF SCRIBING PROFESSION

Activities conducted in the Program(in bulleted list)

Guest Lecture on Scribing by Medical Scribing Expert

Resource Persons involved

S no

Name

Designation

Affiliation

Email id/ Phone numbers

Topic taken

1.

MR. ARUN

PROCESS TRAINER IN SCRIBING

VIRTUAL PHYSICIAN SCRIBES, INDIA, PVT, LTD

suganthi@vpscribe.com

CAREER SCOPE OF SCRIBING

SUMMARY OF THE REPORT
An overview of MEDICAL SCRIBING was given by MR.ARUN.
The CRI's were taught about the Scope of Medical Scribing
The Process of Scribing Profession was highlighted
Feedback analysis/ interpretation and future action plan for further improvement in Quality
Enclosed
Please ensure if the following enclosures have been attached.
Enclosures Check List

Sample certificate

Enclosed

Geo-tagged good quality photographs

(enclose separately as attachment as well as in word document with legends)

Enclosed

Feed back

Enclosed

Brochure

Enclosed
What's Your Reaction?