SVCET-"EDUconnect: Empowering Education with Innovation - A Student-Developed App Revolutionizing Data Management"
EDUCONNECT Launch on 11-9-2023 at SVCET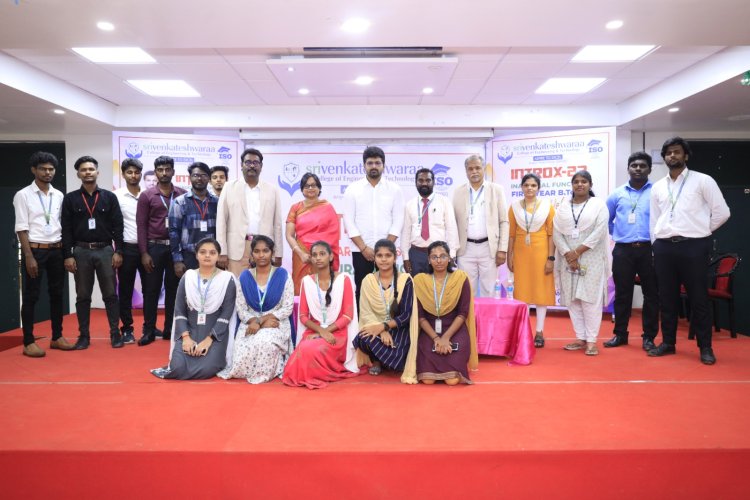 SVCET-"EDUconnect: Empowering Education with Innovation - A Student-Developed App Revolutionizing Data Management"
In a remarkable display of innovation and dedication, a group of final year Computer Science students of Sri Venkateshwaraa College of Engineering and Technology has unveiled their groundbreaking creation - the EDUconnect app. This ingenious application promises to revolutionize the way educational institutions handle data management, offering a much-needed solution to streamline operations and enhance efficiency in the academic world.
In today's fast-paced digital age, technological advancements play a pivotal role in shaping various sectors, and education is no exception. Recognizing the need for a smarter approach to data maintenance, the creators of EDUconnect have harnessed the power of technology to develop a cutting-edge solution for educational institutions.
The EDUconnect app was conceived and crafted by a group of bright and ambitious final year students of Computer Science. Their shared vision was to address the persistent challenges faced by educational institutions when it comes to data management, such as student records, attendance, exam results, and more. Drawing from their own experiences as students and the insights gained from academic staff, they set out to create a user-friendly, efficient, and secure platform that would meet the unique needs of schools and colleges.
The EDUconnect app's potential impact on the educational landscape is significant. By reducing administrative burdens and enhancing communication, it frees up valuable time and resources for educators to focus on what matters most: teaching and fostering student growth. Furthermore, as a project developed by students for students, it exemplifies the power of innovation and collaboration within the academic community.
In a world that increasingly relies on technology, the EDUconnect app emerges as a shining example of student-driven innovation. Its creators have not only addressed a pressing need in the education sector but have also showcased the tremendous potential of future professionals in shaping a brighter future. As this student-developed app continues to gain traction, it is poised to make a lasting impact on the way educational institutions manage their data, ultimately contributing to a more efficient and effective learning environment for all. EduConnect heralds a new era in education technology, exemplifying the innovative spirit of the youth.
What's Your Reaction?