Introx 2022-23 - Sri Venkateshwaraa College of Engineering and Technology, Puducherry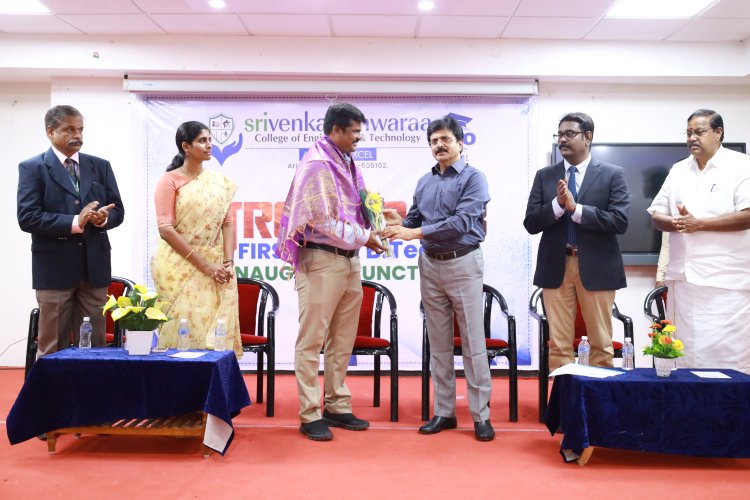 The truth about college is that it can be a lot of different things at once--exciting, nerve-wracking, adventuresome, stressful, and so much fun. A lot of what college will be like is ultimately up to some of the choices you make, but there are also some basically universal truths about what college is like. While you will have access to tons of support while you're in college, your unique experience will depend a lot on how you respond to some of the things about college life that are new and exciting like managing your commitments and deciding how you spend your time. Here's to new beginnings!!. The most popular reasons to enroll is to pursue a passion and quality-of-life improvements, like creating a better life yourselves or your families and improving your income or career prospects. Sri Venkateshwaraa College of Engineering and Technology, Ariyur is distinguishably flaring in every prospect ever undertook for student development including enhancing their creativity and knowledge. But such dedications cannot be achieved overnight. It requires meticulous scrutiny of every element, as even the tiniest oversight might derail the entire endeavor, which brings me to the fact that everything has an origin, a beginning.
The inaugural function for the freshman of B.Tech of this year, INTROX'22-23, was held on the third of November which was presided over by the Chairman Shri.B.Ramachandiran, SVGI. Dr.G.Gayathri, Manager-Talent Management, KONE Elevator India Pvt.Ltd., Chennai wished the students for choosing right path in the most happening place to chose their engineering career. Mr.A.Sesu Dasse, founder and CEO of INSPIRE career Development Centre and INSPIRE IAS Academy as the Chief Guests who expressed viewpoints on the heart of the matter revolving around the key aspect of growth in college minds, professionalism and entrepreneurship. Oftentimes it's not necessarily what you study, but the fact that you studied something at all. Aside from training you in an expert field, college trains you to think analytically, understand complex subjects and communicate your own critical ideas about them. It also instills crucial skills like organization, self-discipline and the ability to complete tasks from start to finish. The inauguration was adored by the felicitations showered by Shri.B.R. Rajiv Krishna,Managing Director ,SVGI, Dr.B.Vidhya,Chief Operating Officer,SVGI, Mr.A Soundarajan, General Manager, SVGI, Dr. S. Pradeep Devaneyan, Principal, SVCET and Dr.K.B.Jayaraman,Dean,SVCET. The program was well organized by Mr.V. Ganesan ,HoD, Science and Humanities department and his team.
What's Your Reaction?