World Physiotherapy Day 2022 - Sri Venkateshwaraa College of Physiotherapy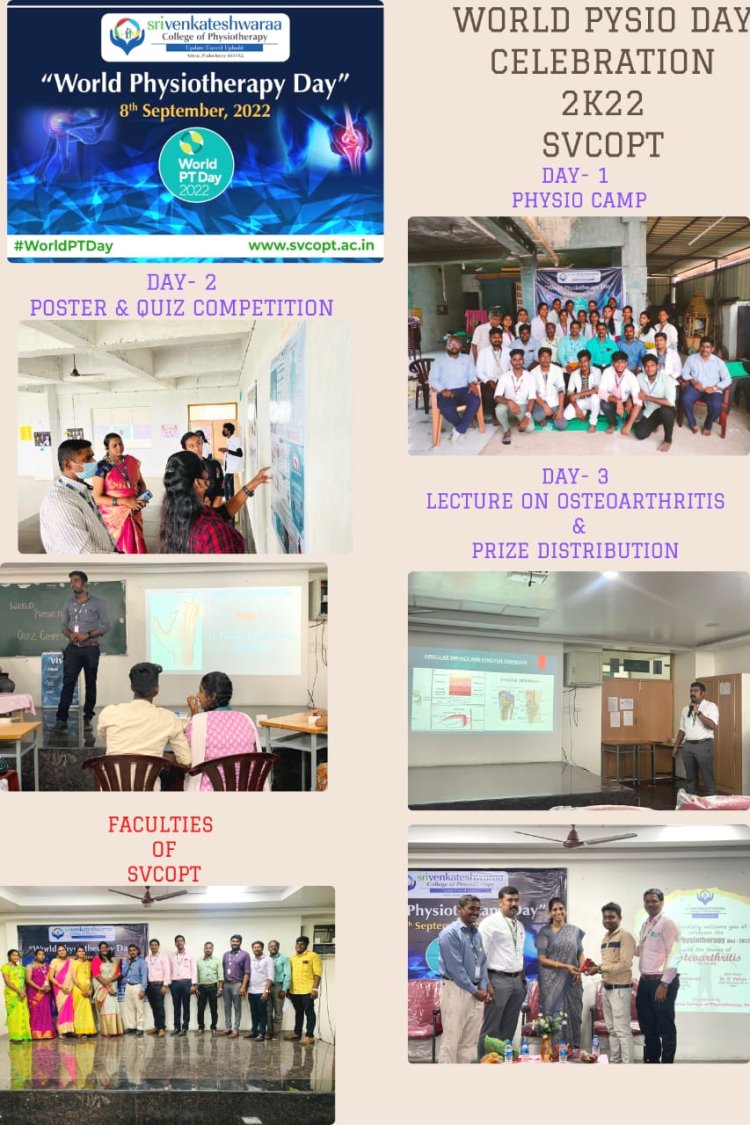 Sri Venkateshwaraa College of Physiotherapy celebrated the World Physiotherapy Day which takes place on 8th of September every year with specific theme and also emphasise the role of physiotherapists into it. Owing to the theme of World PT Day 2022 – Osteoathritis, various events and competitions were conducted from 06/09/2022 – 08/09/2022. For the welfare of Community, a Free Physiotherapy Village Camp was conducted at our Adopted Village Annathapuram around 40 villagers were benefitted. Free Patient awareness camp was conducted on the topic of role of Physiotherapy in prevention of OA at Department of Physiotherapy, SVMCH&RC. Poster and Quiz competition were also conducted to enlighten their professional knowledge and Physiotherapy students from all Physiotherpy colleges of Pondicherry were participated. On 8th September 2022, Respected Dr. B. Vidhya, Chief Operating Officer, SVGI congratulated the Physiotherapists gathering with her presidential address, inaugurated the physio-lab names and also distributed prizes to the competition winners. Followed by these events a Special talk on OA knee was given by Prof.Dr. R. Balasubramaniam, HOD,Dept of Orhtopaedics. This 3 days celebrations were organized by the Faculty of Physiotherapy under the guidance of Vice Principals – Prof. T. Bharaneedharan&Prof. K. AnandBabu.
What's Your Reaction?