World Suicide Prevention Day 2021 - Indirani College of Nursing, Ariyur,Puducherry
World Suicide Prevention Day – 10th September 2021, Theme – "Creating Hope Through Action" was celebrated on 11.09.2021 by the Department of Mental Health Nursing & IQAC at Indirani College of Nursing, Puducherry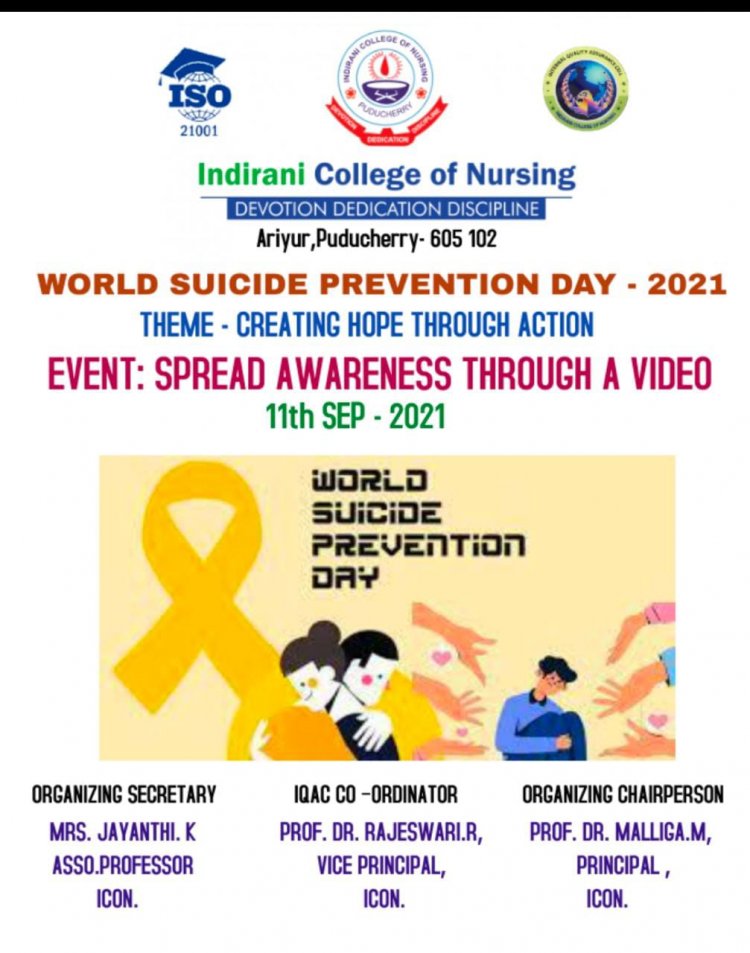 The event organized was spread awareness through a video by sharing the video in the social media. The participants were the students of Indirani College of Nursing. The Video was created by Mr. Shankar, M.Sc. Nursing, I Year, based on the theme - "Creating Hope Through Action".
The students from M.Sc. Nursing, P.B.B.Sc. Nursing, B.Sc. Nursing actively participated in the event of transforming the information in their various social media aspects. They shared the template in the social media like whatsapp status, facebook, instagram, telegram, and twitter and friends group.
The awareness video regarding suicide prevention is also shared in ICON webpage.
Facebook Page
https://www.facebook.com/iconpondy
Instagram Handle
https://instagram.com/iconpondy?utm_medium=copy_link
YouTube Channel
https://www.youtube.com/channel/UC3HqjOx2bq6scM2zwRu6rwQ
The video contains the information regarding awareness related to suicide prevention. On various aspects of preventive and supportive aspects, such as causes, risk factors, ventilating to friends and care takers and seeking professional help available. This information was reached to many of the general Public through social media. The students clarified the doubts of their friends, relatives and general public regarding the awareness related to suicide prevention.
The event ended with feedback given by the students, regarding the modes of awareness given by them by sharing the video. The event was highly beneficial for the students, their friends, family members and general public which was evident by their valuable feedbacks.
What's Your Reaction?