Disaster Management Programme - Sri Venkateshwaraa college of Engineering and Technology, Ariyur, Puducherry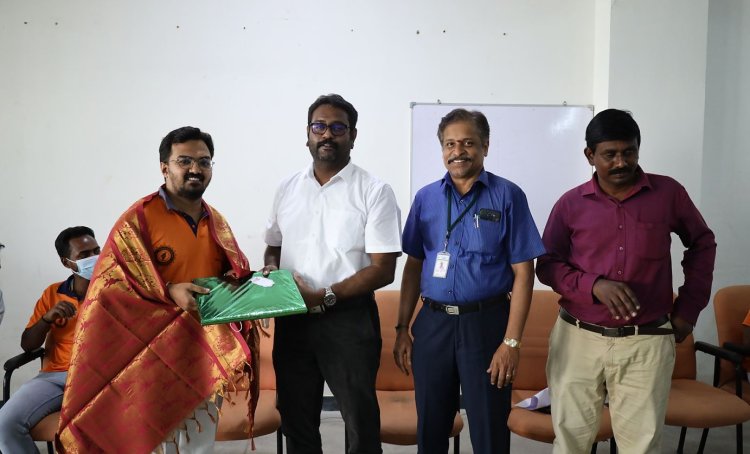 Nature has various manifestations, both gentle as well as aggressive. We see how it is so calm while the other times it is fierce. Communities have to be educated and made aware of collaborating in disaster management and mitigation endeavors. It is often heard and kept skeptical of supposed intellectual and emotional expressions in the site of disaster. India has gone through several sickening and grim reminders that preparedness is not always the best shot.
As per the instruction of Shri. B. Ramachandran, Chairman of SVGI the awareness programme was organized for the Students. Sri Venkateshwaraa College of Engineering & Technology knowing the perspectives of Disaster Management Programmes and the need to address our future generation about catastrophic manoeuvre lend opened arms to the proposal for a one day workshop on Disaster Management. Dr. S. Pradeep Devaneyan, Principal, Sri Venkateshwaraa College of Engineering & Technology welcomed the experts mainly responsible for this programme to eventuate. Mr.Manosundar, Mr. Murugan - District coordinators and Mr.Sanjay, Mr.S.Gopi, Mr. Manikandan – Trainers of Sri Sathya Sai Disaster Management Team, Puducherry.
Initially, this workshop stated the purpose, the rationale for the importance of saving lives including what is known, current state of what is unknown and clearly highlighted the gaps in the present study. Students were growing more familiar to implementing and stratergising plans before a disaster. This part of the student curriculum vastly helped to understand and adapt to such events. Theories on disaster via PPT, fire exercises, glimpses on first aid and CPR, rescue methods and rope exercise where a reminder on how new and precise minds must coincide to act in a prompt and proactive manner.
The effort of the institution to implement the necessity of Disaster Management awareness was exceptionally obliging towards fostering the teen minds for the various phases of Disaster Management. The expert teams were thanked for their presence and promising participation by Dr. K. B. Jayarraman, Dean of Sri Venkateshwaraa College of Engineering & Technology and the programme was well organized by Mr. V. Ganesan, Head of Science & Humanities Department. All the Department Heads, Faculty members, Students and Office Staffs attended the Programme. This workshop was surely a success based on the sole purpose, that is to coordinate response at times of Disaster resilience, crisis response and equip the pupils with life skills. It has mentionably induced a cascading impact in gearing ourselves for any disaster.
What's Your Reaction?