WORLD BREAST CANCER AWARENESS MONTH OCTOBER 2022 MASS RALLY REPORT – Indirani College of Nursing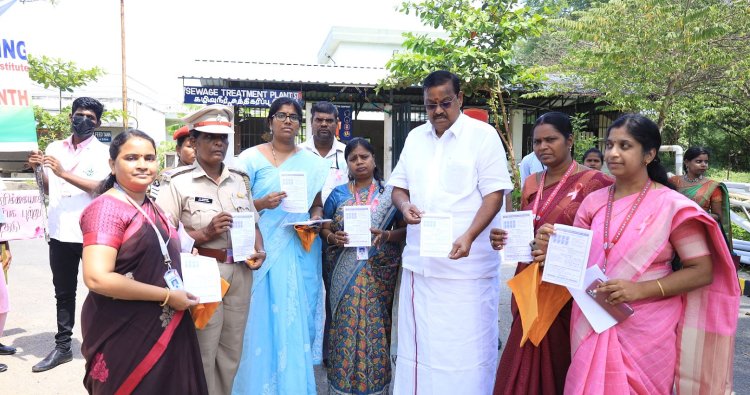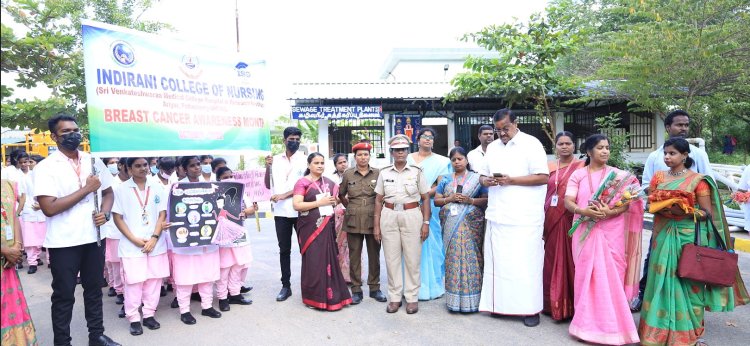 Breast Cancer Awareness Month has been observed every October since the nineties. It is called 'Pink October' as people around the world adopt the pink colour and display a pink ribbon to raise awareness about breast health and the importance of screening for the early diagnosis of breast cancer, now the most commonly diagnosed cancer globally. This year, it is on the theme "We RISE to ensure every woman has access to the screenings she needs and the support she deserves". The institution organized a mass rally on the theme to create awareness among the people on 15.10.2022. Around 500 students, teachers participated in the rally. The rally was flagged off at Indirani College of Nursing campus by Mr. Chinta Kothandaraman, Superintendent of Police, Villianur and Dr. Prema , Medical Officer, Primary Health Centre, Ariyur. This event was greatly supported by Mrs. N. Shanthi, Inspector of Police and Mrs. N. Amutha, Head Constable, All Women Police Station, Villianur to conduct the programme in a safe manner.
On this occasion, a signature campaign was launched by Dr. Prema , Medical Officer, Primary Health Center, Ariyur and the dignitaries, faculties and students signed the board .This programme initiated on the use of cloth bags and advocated on the avoidance of plastic among the people. The yellow colored cloth bags were distributed to the public with the quotes of avoidance of plastic and to prevent cancer. The rally was conducted from Indirani College of Nursing campus to Vadamangalam area which covered 5 kms. The students created awareness through A.V Aids and attractive pink pluckards. In the rally programme, people were sensitized on the concept of prevention of breast cancer with the detailed information through pamphlets. This event has been a great success with the guidance of Dr. Prof. M. Malliga , Principal, and support by Dr. R. Rajeswari, Vice Principal of the institution. This programme was presided by Mr. B. Sowndarajan, General Manager, Sri Venkateshwara Groups of institutions.
What's Your Reaction?