INSTITUTIONAL INNOVATION COUNCIL REPORT ON MOTIVATIONAL SESSION HOW TO BECOME SUCCESSFUL ENTREPRENEUR DATE: 26.11.2021
The Institutional Innovation Council of our institution organized a motivational session for the students and the faculties on the theme "How to Become Successful Entrepreneur" on 26.11.2021 from 11.30 am to 12. 30 pm through virtual mode. The participants registered through online by the Google forms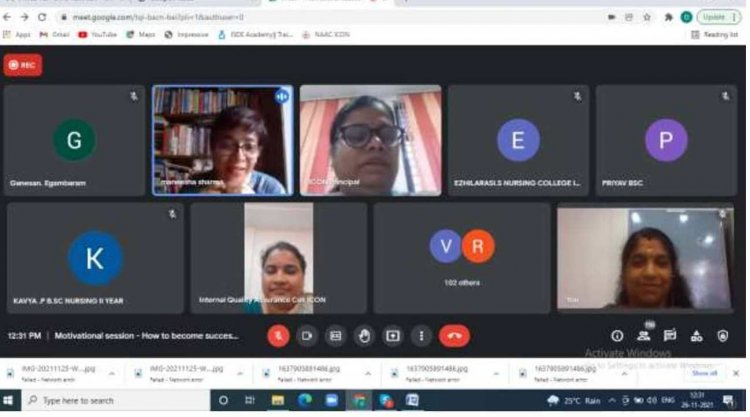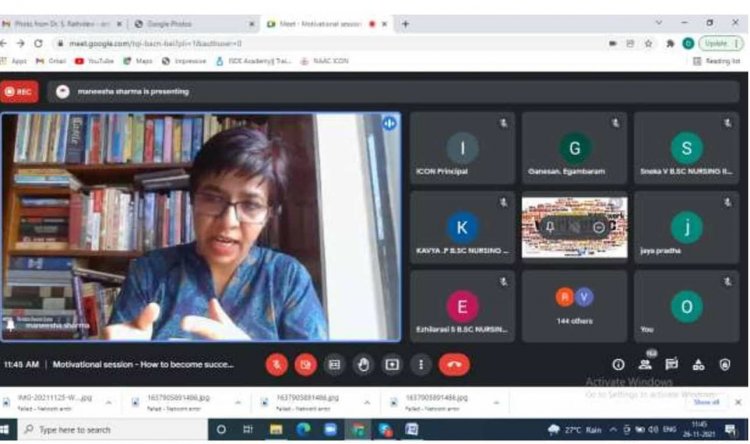 The Institutional Innovation Council of our institution organized a motivational session for the students and the faculties on the theme "How to Become Successful Entrepreneur" on 26.11.2021 from 11.30 am to 12. 30 pm through virtual mode. The participants registered through online by the Google forms. The session was deliberated by Ms. Maneesha Sharma, Life Coach, Transformer, Influencer, Speaker, Skillup Online in the magnificent manner. The session was initiated with the introductory note by Dr. Malliga.M, Principal Cum President, IIC of the institution. She had oriented the session to the students in the positive manner and briefed about the speakers values in the befitted manner.
The speaker of the session provided clear insight about the entrepreneurship and its importance especially to the younger generation in the fantastic way. She emphasized on the fearless attitude and its development with quoting of several examples in the field of nursing and many others. She also motivated the youth to live for passion and achieve by resilience. She energetically answered all the questions of the participants with full responsibility.
After all the discussions, the vote of thanks was deliberated by Dr. R. Rajeswari, Vice Principal, Vice President, IIC, where she had expressed her gratefulness to each and everyone involved in the event and praised them for the success of the programme. The session was organized by Dr.S. RathiDevi , Convener, IIC with the guidance and suggestions from the experts. Thus the programme incorporated the sense of self esteem and confidence among the students to become futuristic successful entrepreneur.
What's Your Reaction?